January 19, 2023, Tianjin, China, As the penetration rate of the domestic onshore wind power industry continues to increase, excellent tuyere locations have gradually decreased. Distributed wind power may become the most powerful power supplement for local power shortages in China.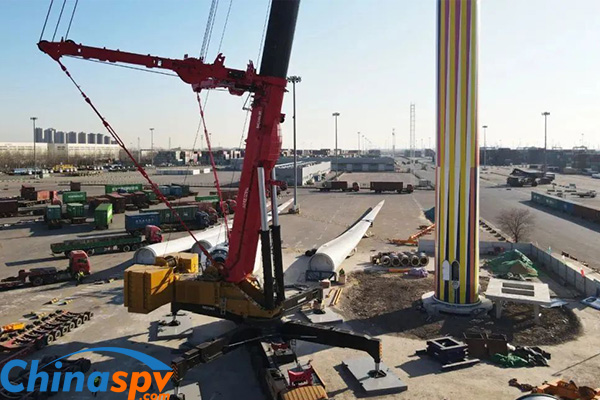 Recently, in order to achieve the goal of green and smart energy construction of zero-carbon docks, zero-carbon port areas, and zero-carbon ports, Tianjin Port has officially launched the construction of a 15MW decentralized wind power project, and plans to build three new 5MW wind turbines. The SAC24000T of Beijing Wanhua Baishun Electric Equipment Installation Co., Ltd. served as the main hoist.

This time, SAC24000T adopts the working conditions of main boom 80m + auxiliary boom 44m, and counterweight 240t, and the cabin weighing 135 tons is firmly placed on the 110-meter-high tower, and then the hub and blades are docked. The whole hoisting process is rigorous and precise.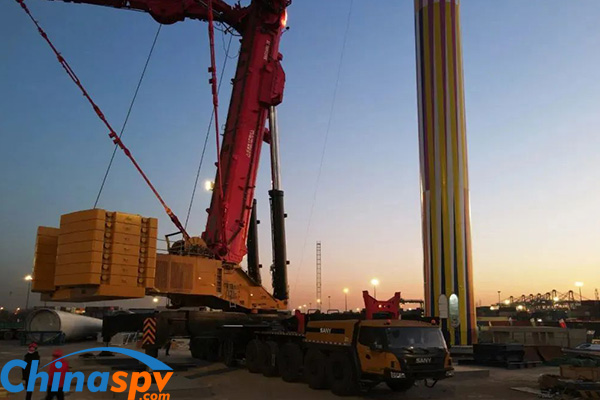 The weather in the port area is unpredictable, and the wind speed has become one of the important factors affecting hoisting. Liu Shengyong, the operator of the SAC24000T, said, "The port is very windy, and it is very difficult to wait for a hoisting outlet. We can only observe and prepare for the battle at any time. Once the right time comes, we will immediately start rushing to install it."

Liu Shengyong said: "The most important thing about wind power hoisting is safety, but the blades hoisted this time are larger, the nacelle is heavier, and the tower is taller. The owner has a rigid requirement for the load rate of the equipment, which must reach 80%. And this vehicle can reach at least 60%."

In addition to operational performance, the efficiency of the transition is also the focus of the owner's consideration. The SAC24000T directly performs heavy-duty transitions with a full arm and a full leg of 284 tons. The flexibility of the vehicle is greatly shortened. The construction time and the construction efficiency has been greatly improved.

After the Tianjin Port 15MW decentralized wind power project is completed, it is expected that the annual power generation will be about 30 million kWh, reducing carbon emissions by more than 9,000 tons.