January 19, 2023, Sichuan, China, Recently, Yutong pure electric sightseeing vehicle was delivered to Leshan Giant Buddha Scenic Area. It is understood that this is the third time that Leshan has purchased Yutong pure electric sightseeing vehicles. The operators of the scenic spot emphasized that superior vehicle performance and flexible and convenient driving experience are important reasons for them to choose Yutong.
The Yutong pure electric sightseeing vehicle that was put into work in the scenic spot has a total length of 22.5 meters, a maximum speed of 19.5 km/h, and a cruising range of 170 km. It uses 3 trailer-type carriages and is rated to carry 72 passengers. The high-quality vehicle performance will not only meet the operating needs of sightseeing vehicles in the scenic spot, but also effectively relieve the pressure of transfer during the Spring Festival peak season, and further help the economic development of the scenic spot.

In terms of safety configuration, there is a communication device between the driver and the safety officer in the vehicle, and three passenger alarm devices are installed in each vehicle. When an abnormal situation occurs, the driver can be notified in time by the safety officer or by pressing the passenger alarm switch. Monitoring probes are installed on the front, inside and outside the compartment, so that the driver can grasp the situation inside and outside the compartment in real time to ensure driving safety.

While Yutong's pure electric sightseeing vehicle is the main force of sightseeing vehicles in the scenic spot, its unique locomotive shape also becomes a beautiful scenery line, providing tourists with a unique sightseeing experience. And its green, low-carbon, and environmental protection advantages are also in line with the concept of Leshan Giant Buddha Scenic Area to create green and ecological Leshan, which will further promote the green development of the scenic spot.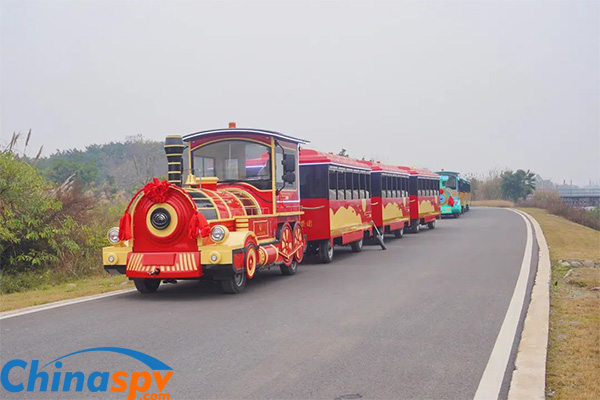 With the continuous release of various favorable policies and just in time for the Spring Festival, the tourism market will also usher in an accelerated recovery. As an important equipment for serving tourists in the scenic spot, Yutong sightseeing vehicle has a variety of vehicles such as lithium battery sightseeing vehicle, diesel sightseeing vehicle, sightseeing train, etc., and is widely used in many Internet celebrity check-in places across the country, providing high-quality sightseeing connections for scenic spots.

In the future, Yutong sightseeing vehicle will continue to use its superior product performance and all-round considerate service to help major scenic spots set up domestic sightseeing vehicle service benchmarks and boost the rapid recovery of the tourism industry!