As the price war intensifies in China's auto industry, BYD has also started offering discounts for its two models, even though the official prices remain unchanged.
Consumers who order BYD's Song Plus lineup can get a discount of RMB 6,800 ($980), or RMB 8,800 for the Seal. This is a limited-time marketing campaign valid from March 10 to March 31, BYD said.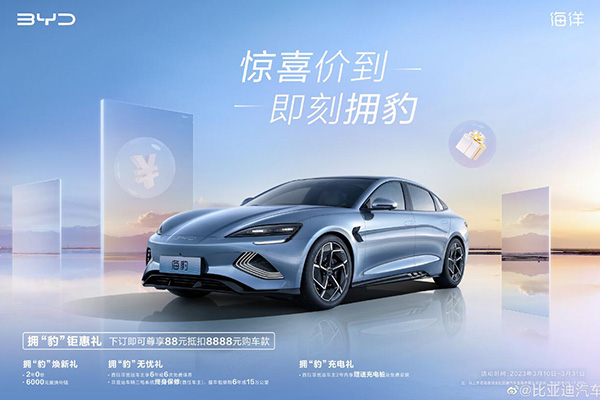 BYD sold 193,655 new energy vehicles (NEVs) in February, including 191,664 passenger cars and 1,991 commercial vehicles.
Song family models sold 52,400 units in February, BYD's highest sales in the month, contributing 27 percent of all its passenger car sales. Song family models include the hybrid Song Pro and Song Max, both of which are part of BYD's Dynasty lineup. The family also includes the hybrid Song Plus DM-i and the all-electric Song Plus EV, which are part of BYD's Ocean series.
BYD announced that the offer is limited to these two Song models in the Ocean series, as well as the Seal. BYD's Seal sold 7,754 units in February, which was up 17.17 percent from 5,043 units in January. The model went on sale on July 29, 2022.
Earlier this month, authorities in central China's Hubei province joined forces with a number of local car companies to offer subsidies for consumers to purchase vehicles, with some models offering subsidies of up to RMB 90,000, marking the open entry of fuel models into the price war.
The first to participate are the Dongfeng Motor family of brands, including Dongfeng Honda, Dongfeng Nissan, Dongfeng Citroen, Dongfeng Peugeot and Dongfeng Aeolus, with the Dongfeng Citroen C6 offering a combined subsidy of up to RMB 90,000.